Austin Tree TrimmingAbout Us
Legacy Arbor Care is a family owned professional tree care company that services the greater Austin area, with the capability of traveling outside that footprint for larger, specialized projects. Our philosophy on tree care combines real world experiences and continuing education through affiliations with the International Society of Arboriculture and the Texas Forest Service. We feel it is the combination of this experience and continued education that allows Legacy Arbor Care to stay creative while bringing your trees the health care they deserve.
Brent Frazier – Owner / ISA Certified Arborist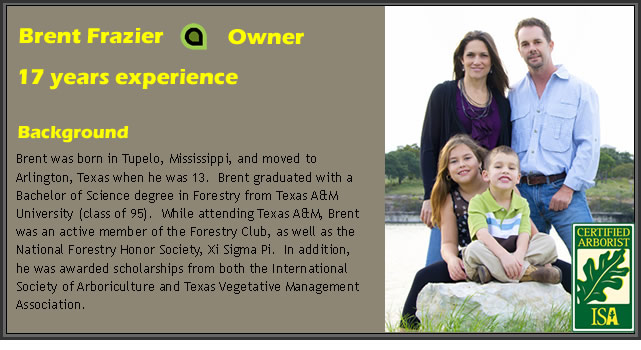 After graduating, Brent was recruited by a nationally known landscape company, where for 11 years, he managed the Austin based tree care division. In 2007, an opportunity to partner with another local arborist presented itself. Together, they grew into one of the largest, local tree care companies in Austin. Deciding to branch out on his own, Brent has now embarked on a new and exciting opportunity. Drawing from that wealth of valuable experience, Legacy Arbor Care was born.
Brent is married with two children, and lives in Round Rock, Texas. In his spare time, he can be found managing and growing the family vineyards, Whistling Duck Vineyards, as well as hunting and fishing.
With over 16 years of arbor care experience in the Central Texas area, Brent brings a high level of knowledge and professionalism to the industry. His professional certifications include: ISA Certified Arborist TX-0965A and Texas Oak Wilt Certified Arborist TOWC-0065.
Brent can be reached via email at brent@legacyarbor.com or by phone at (512) 971-5564.
We Can Help - Call Today 512.971.5070