Tree Soil ManagementAustin Tree Care Company
When people think of soil management, in many cases they automatically think of simple fertilization.
Many tree and landscape companies simply apply a basic nitrogen fertilizer to trees and shrubs then move on to the next issue. We don't do that.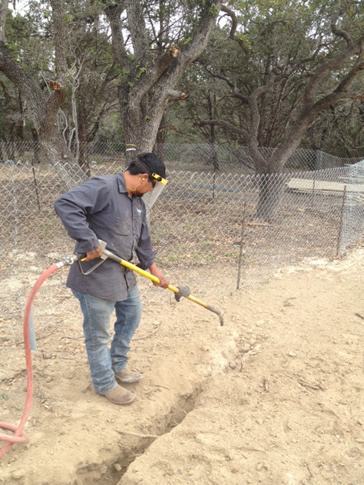 At Legacy Arbor Care, we understand the soil environment is a complex situation that holds the keys to total plant health. While it is true that nitrogen is important to all plants, that one element is only a small part of the soil chemistry.
When it comes to soil management, being proactive is a must in order to stay in front of future tree problems.
We Can Help
Call Today 512.971.5070
Understanding that each site is different and comes with it own set of challenges is crucial when prescribing a soil treatment plan.
From applying beneficial mycorrhizae to aeration and adding compost, each site offers unique and specific requirements. Applications of humic acid, green lava sand, and even worm teas are all possibilities that might benefit your trees based upon the site needs.
Not all aspects of soil management are chemically based. In many cases, physically altering the soil via an air spade will benefit your trees.
From exposing a cover root flare to fracturing compacting soils and adding organic compost to improve the soil profile, there are many techniques available to increase the overall health of your trees through proper soil management.
We Can Help - Call Today 512.971.5070